In this article we are discussing steps we need to take to register the firm under GST as a Regular Dealer or Composite Dealer.
First we need to know the Liability of the Registration .
Region

Aggregate Turnover

Special Category

(Arunachal Pradesh,Assam,Manipur,Meghalya ,Mizoram,Nagaland,Sikkim,Tripura,Himachal Pradesh and Uttrakand

Rs 10 Lakhs

Rest of India

Rs 20 Lakhs
Documents Required for Registration
1. PAN card of the Company
2. Proof of constitution like partnership deed, Memorandum of Association (MOA) /Articles of Association (AOA), certificate of incorporation.
3. Details and proof of place of business like rent agreement or electricity bill
4. Cancelled cheque of your bank account showing name of account holder, MICR code, IFSC code and bank branch details
5. Authorized signatory like List of partners with their identity and address proof in case of partnership firm or List of directors with their identity and address proof in case of company.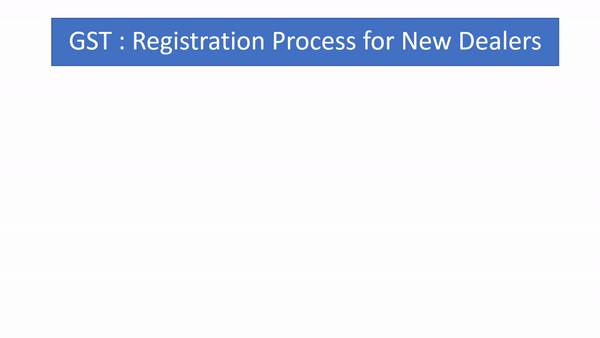 GST Registration Forms for other stakeholders
| | |
| --- | --- |
| FORM NO | FORM TYPES |
| Form GST REG-07 | Application for Registration as Tax Deductor or Tax collector at source |
| Form GST REG-08 | Order of Cancellation of Application for Registration as Tax Deductor or Tax Collector at source |
| Form GST REG-09 | Application for Registration Non Resident Taxable Person |
| Form GST REG-09A | Application for registration for a person supplying online information and data base access or retrieval services from a place outside India to a non taxable online recipient |
| Form GST REG-10 | Application for extension of period of operation by Casual Taxable person and Non- Resident Taxable Person |
| Form GST REG-12 | Application for allotment of Unique ID to UN organizations or Multilateral Financial Institution or any other class of person as notified by the commissioner |
Click below link for the Video in Malayalam
Video Link: Watch Video