Return filing process one of the most critical process in GST Scenario, as we need to be very discipline in the filing as all the dealers in the nation need to file the outward details in 10th of the month.if any delay of the filing return will attract fine
We will discuss how it works in business scenario
Step-1
Studds Dealer issuing the invoices to Hitech Agency in the month of July 2017.
Step-2
Hitech Agency issuing invoices to Star Automobiles in the month of July 2017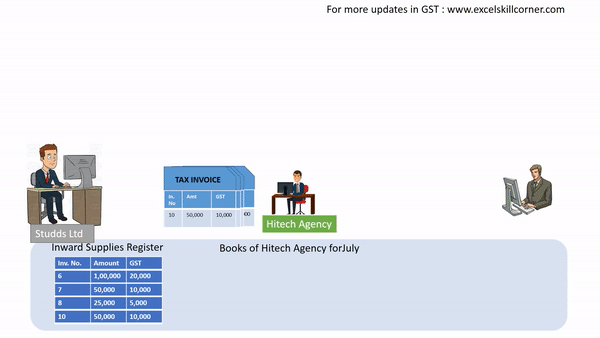 Steps-3
Registered taxable person need to file their outward supply by 10th of subsequent Month through Form GSTR-1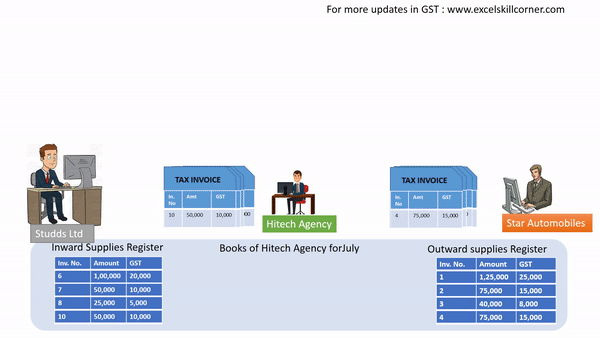 Step-4
Buyer can view their invoice details of inward supplies through their portal by 11th through Form GSTR 2A, Buyer need to reconcile the invoice details with their inwards register and the details in GST portal in period of 11th to 15th
And after modification or addition of any data ,submit the form GSTR 2 in 15th of the month.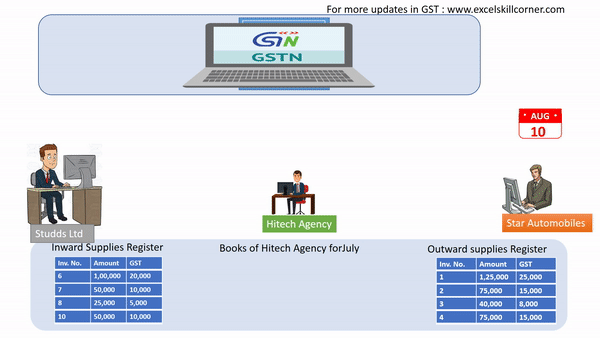 Step-5
GSTR 2 Form which is submitted by recipient will auto populated as GSTR 1 A in the supplier portal here he need accept or reject the adjustments made by the recipient.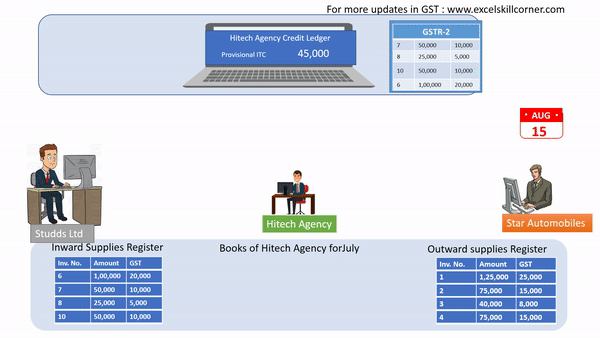 Step-6
On 20th the auto-populated return GSTR 3 will be availiable for submission along with the payment .After the due of filing the monthly return FORM GSTR 3,the inward supplies will be matched with outward supplies furnished by supplier ,and then the final acceptance of input tax credit will be communicated in Form GST MIS -1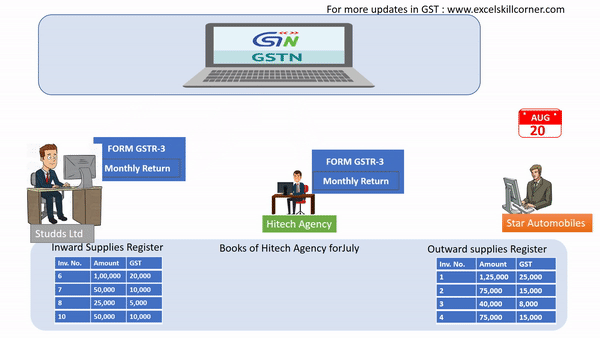 So here we need to be careful if our suppliers will not pay the tax collected from us, and in this scenario we can able to avail the input credit for the same,and also we need to reconcile the invoices from the suppliers and customers before filing the return (10th of month) for avoiding last moment stress for filing .If we can't file the returns in proper way which will be create issues among our customers and also to our rating in GST Portal.
Click on the below link for watching the video in Malayalam
Video Link: Watch Video