Pivot Table is one of the most important option in Microsoft Excel which helps us to save lot of time for creating reports from the bulk data without using any complicated formulas and in this article we are going to create the report which is commonly required in all business scenarios.
Eg . In this Data we need to create report about
| | |
| --- | --- |
| | Report required from the DATA |
| | |
| 1 | Monthwise Sales |
| 2 | Sales Share Monthwise from Total Sales |
| 3 | Monthwise Rank |
| 4 | Cumulative Total (Running Total) |
Step-1
Select the data and click on the Insert Tab and click on Pivot Table option and click on OK,
and from the field list drag the Month Option to Row Label and drag the Amount option to value field for getting Total Amount.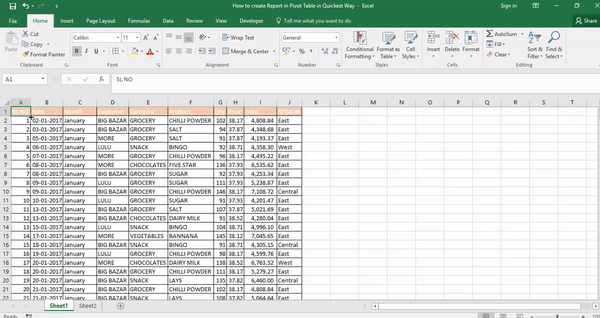 Step-2
And here we need to create report on Percentage of Share,Rank wise and Running Total for this we need to drag the Amount option to Value Field for each report.and Rename the column.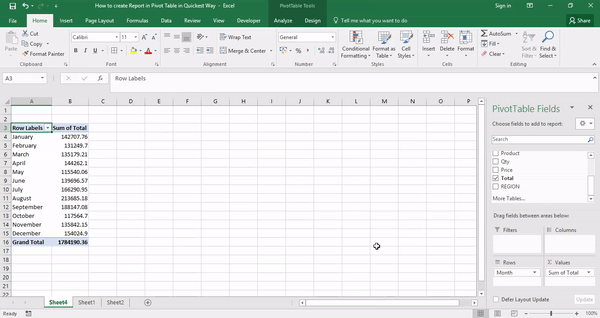 Step-3
Here we need to double click on the column heading and in value field setting , click on the show value as , and select the option % of column total and click on ok.
Step-4
And in Pivot Table we can get "Value Field Setting option" by right click , and here for getting Rank ,click on the "Rank from Largest to Small" and we will get rank of the Month related to the sales,
Step-5
Another option for getting value field setting by click on the Amount option which is drag to value field in the Pivot Field List and select the option show value as and select the option Running Total.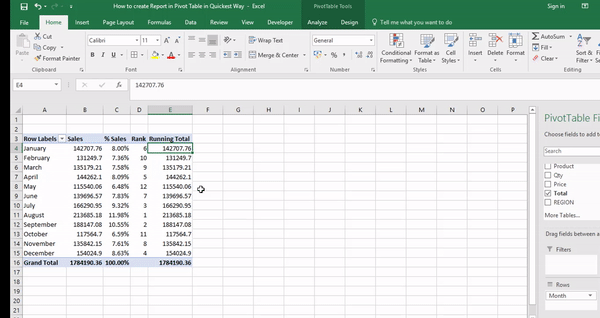 And Finally we get different reports from the data using Pivot Table option without using Formulas.
Click on the below link watching video in Malayalam
Video Link: Watch Video