Every business is waiting to make the transition to the new laws under GST as we get closer to the appointed day. Taxpayers already registered under VAT/Service tax also need to register under GST. Each entity registered under the previous indirect tax laws shall get a certificate of registration on the provisional basis.
This certificate issued would be valid for a period of 6 months. Businesses having a turnover of more than Rs 20 Lakhs have to get registered mandatorily under GST. Small businesses can either opt for composition scheme or they can get voluntarily registered under GST.
All invoices have to be uploaded online, according to the GST Model Law. The process of deduction, payment, and refund of indirect taxes under GST would be carried out electronically.
Every business should have a fully computerized office for ease of compliance under GST.
Liability for Registration in GST
Region

Aggregate Turnover

Special Category

(Arunachal Pradesh,Assam,Manipur,Meghalya ,Mizoram,Nagaland,Sikkim,Tripura,Himachal Pradesh and Uttrakand

Rs 10 Lakhs

Rest of India

Rs 20 Lakhs
All existing dealers registered with any of current laws (VAT,Excise,Service Tax) will also need to register under GST by default.
Note: Turnover considered here is the aggregate pan-India turnover (including value of taxable ,exempt and export supplies) of a business entity and not state wise
Example
Let us take an example to illustrate the liability of a business to register under GST
Hitech Agency is Manufacturer of Surgical Equipments in Kerala. They also have the branches in Karnataka and Tamil Nadu
| | | | |
| --- | --- | --- | --- |
| Business Unit | Location | PAN Number | Turnover (Rs) |
| Hitech Agency | Kerala | AAEFT303K | 100 Lakhs |
| Hitech Agency | Karnataka | AAEFT303K | 25 Lakhs |
| Hitech Agency | Tamil Nadu | AAEFT303K | 20 Lakhs |
As per the example
All the units are registered under same PAN Number
Turnover of the All locations are considered for calculation of Turnover
So Total Turnover will be Rs 145 Lakhs
1. Taxable person carrying on Interstate supply
2. Casual and non resident taxable person
3. Business liable to pay tax under reverse change
4. Agents supplying on behalf of a taxable person
5. Input service distributor
6. Sellers on e-commerce platforms
7. All e-commerce operators
8. Person supplying online information and data base access or retrievel services from outside india to an unregistered person in india
9. Persons responsible to deduct Tax
Registration Process of Existing Dealers Under GST
ü All the dealers registered under existing law and having a PAN, shall enrol on the common portal by validating his e-mail ID and Mobile Number
ü Upon enrolment, a dealer will be allotted with a provisional certificate of registration in Form GST REG-25. If a dealer has obtained multiple registration on the basis of single PAN under existing law, such dealer will be granted only one provisional Registration. In case of centralized registration under Service Tax, a dealer will be granted with single provisional registration in the state or union territory in which the he was registered earlier.
ü Within 3 months, dealers are required to submit Form GST REG-24 in the GST Portal along with information and documents as prescribed.
ü If the information provided is complete and satisfactory, final registration certificate will be issued in Form GST REG-06.
ü If the details submitted are not satisfactory, a show cause notice will be issued in Form GST REG-27, and there will be a hearing before cancelling the provisional registration. If the show cause hearing is not successful, or if the details are not provided within the stipulated period, the provisional registration allotted in Form GST REG-25 will be cancelled by issuing an order in Form GST REG-26.
During transition .if a taxable person is not required to register under GST,but was previously registered (Central and State Law) he has an option to cancel the provisional registration issued by submitting the Form GST REG-28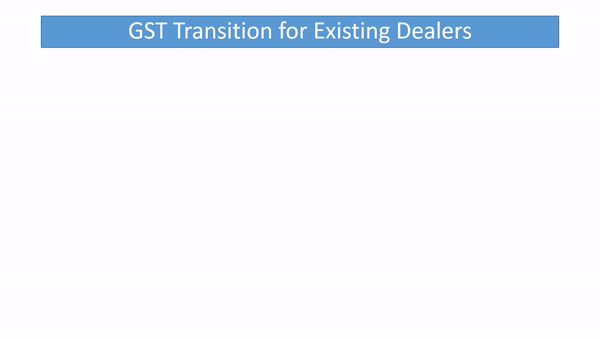 Click below link for Watching Video in Malayalam
Video Link: Watch Video